February 10, 2020 - 4:16pm
9 Free San Francisco Beer Week 2020 Events You Can't Miss

There's always something going on in this pretty city of ours. Whether it's a gigantic pillow fight for Valentine's Day or a city-wide 12k race in costumes at the beginning of the summer, there's no shortage of free and unique events in San Francisco. From February 7th through the 16th, 2020, breweries and bars all across the city will be hosting hundreds of fun events to celebrate SF Beer Week. Craft beer culture is huge in the San Francisco Bay Area. Even if you're not a huge beer buff, there are countless free shows, parties and events to keep you entertained this week, so it's worth checking out. Some event have an entry fee to get into, but there are also many that are free to enter. The beer and food cost money, though. (Except for #6!) Here's nine of our favorite FREE events going on this week!*
*Please note that these events take place in breweries, all events are 21+. Please bring a valid ID with you!
1050 26th St
February 11, 2020
16:00 - 21:00
What better opportunity to visit one of San Francisco's most popular breweries than tacos on Tuesday? Entry to the event is free, but bring cash if you want to buy tacos (or beer). Located in the Dogpatch district, Harmonic Brewing will feature tacos from popular Bay Area food truck La Santa Torta, Tacos Amelia (known for their handmade tortillas using corn from Mexico!), El Chino Grande (Taiwanese street food-inspired tacos) and The Vegan Hood Chefs (yes, vegan tacos!!)
Between the food, the brewery, and of course beer, this event will definitely give you something to taco bout with all your friends back home. Yep. We went there.
3150 Polk Street
February 11, 2020
17:00 - 20:30
Show off your Mario Kart skills to your new hostel friends and other people at San Francisco Brewing on Polk Street and then wash down your success with some local San Francisco craft beer. The game is free to play, but bring cash for your pints!
1439 Egbert Ave., Unit A
February 12, 2020
18:00
This isn't your normal Cards Against Humanity game. The folks at Laughing Monk Brewing in Bayview have created their own special "beer lovers edition" of the classic party (or hostel common room) game. Know a lot about craft beer? Come show it off at this tournament. It's free to play with the purchase of a beer!
Start at Harmonic Brewing at 1050 26th St - then catch the shuttle to 4 more breweries!
February 12, 2020
18:30 - 21:30
Meet at Harmonic Brewing at 18:30 and catch their free hop on, hop off shuttle to 5 more breweries!The shuttle comes every 30 minutes. This event runs for 3 hours and happens every month, but it's a special one this month, because y'know. Beer week!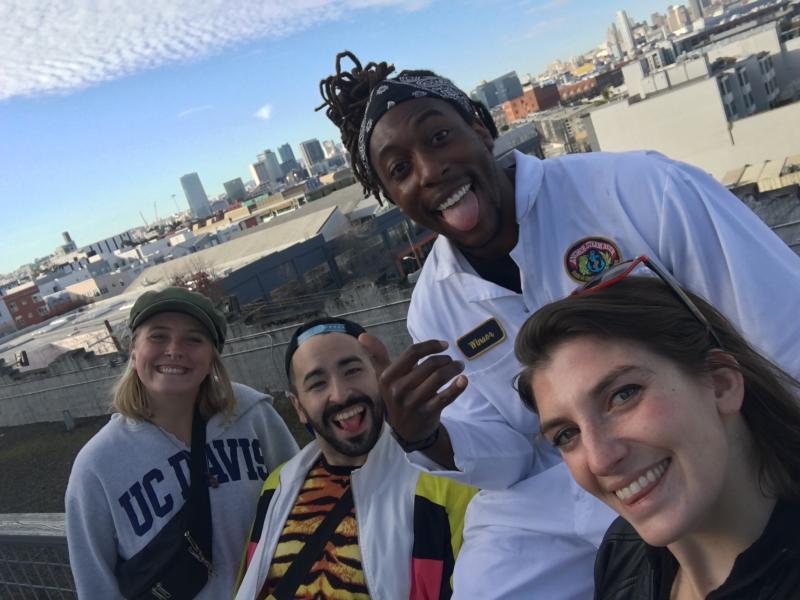 19:30
Ocean Ale House in Ingleside is hosting a standup comedy showcase to round out the evening's beer week activities! The showcase will feature four to six standup comedians. Entry to the brewery and the comedy show is free, but 25 percent of all beer sales will be donated to the nonprofit City Surf Project, which provides swimming lessons, ocean sports and environmental education to youth in San Francisco who may otherwise not get a chance to experience them. Free comedy, beer, and a good cause? What else could you want for a chill Wednesday night in San Francisco?
February 13, 2020
12:00
Dogpatch brewery Triple Voodoo is celebrating 10 years! And during beer week, too! They're celebrating with a FREE BBQ at noon, which will go until they run out. They're also serving up tostadas at 14:00 and oysters from Drake's Bay Oyster Company at 18:00. The BBQ is free, but bring cash if you want tostadas, oysters, and of course, delicious craft beer.
1050 26th St
February 13, 2020
16:00 - 21:00
Harmonic Brewing is throwing an event the day before Valentine's Day dedicated to female artists, vendors, and other entrepreneurs in the Bay Area! They'll have steam buns from Filipino food vendor Psst. Hoy, dumplings from female- and queer-owned business Good To Eat Dumplings, French pastries from Le Dix Sept, vegan food from female- and black-owned vendor Compassion Meals, and lots of jewelry. It's free to enter, but bring cash if you want to buy jewelry or food.
February 14, 2020
19:00
Missed the fundraiser for City Surf Project at Ocean Ale House on Wednesday? Good news, they're doing it again today! There also be live Cuban music to dance to while you enjoy your beer.
1050 26th St
February 14, 2020
19:30 - 23:00
Ok, we know Harmonic Brewing is on this list a lot, but that's because they're throwing a lot of great free events for beer week! Celebrate Valentine's Day with Pride Prom, a huge party for the LGBTQ community with free prom photos and Japanese crepes! Music will be provided by DJ La Frida. Free entry, free photos, and free jams, but bring cash for the crepes of you're hungry.
Check out the official SF Beer Week website for a full list of the events going on! As always, please remember to drink responsibly, know your limits, and stay hydrated with lots of water.