Hostels Near Golden Gate Park: What To Do and Where to Stay

When you come to San Francisco you have to check out Golden Gate Park.
Along with Alcatraz Island and the Golden Gate Bridge, it is one of the city's most popular attractions — so you would think there are loads of backpacker hostels right next to it, right?
Well, no actually.
The north and south of the park is nearly all residential, so no hostels there, and to the west is around 60million square miles of salty water, better known as the Pacific Ocean.
Which means your only option is east of the park.
But which are the best hostels near Golden Gate Park? Let's take a look at your options if you're a budget backpacker in San Francisco.
What to see in Golden Gate Park
But before we spill the secrets, let's get excited about the United States' third most visited park.
Here are 10 things to do at Golden Gate Park we think you should consider for your visit.
1. Stow Lake
Stow Lake is a must for any traveler looking to reconnect with nature. The man-made lake in the middle of the park is teeming with wildlife including turtles, hummingbirds, ducks and much, much more.
For the best views, take a stroll around the water's edge (keeping your eyes peeled) or get onto the water by renting a rowboat or paddleboat from Stow Lake Boathouse.
Lazy afternoons don't get much better than enjoying lunch at one of the picnic tables or (if you're really feeling adventurous) invite some friends and use the BBQ grill.
If you're brave, stay until the sun sets when, rumor has it, the ghost of the White Lady walks the land of the living once more.
2. Strawberry Hill
Bang in the middle of Stow Lake is the stunning Strawberry Hill. The 430 foot-high point is the highest in the park, and boasts spectacular views of the Golden Gate Bridge.
To reach the summit, pack your camera and a bottle of water and follow the trails to the top, which start at either Rustic Bridge or Roman Bridge.
If you don't fancy the hike, you could relax by the man-made waterfall (top picture) or chill out at the Golden Gate Pavilion, a Chinese temple-like building gifted to San Francisco city by Taipei in China.
3. The American bison
Golden Gate Park has been home to American bison since the 1890s (not the same ones, obviously).
The magnificent beasts can reach up to 30 miles per hour if they need to, but they are actually rather docile creatures who prefer to stay out of the limelight.
Instead, the herd will probably be found grazing on grass and weeds in their enclosed field next to Spreckels Lake in the north area of the park. If you're having trouble finding the herd, head to the right side of the enclosure to see a group who typically hide behind a mound.
4. Japanese Tea House and Garden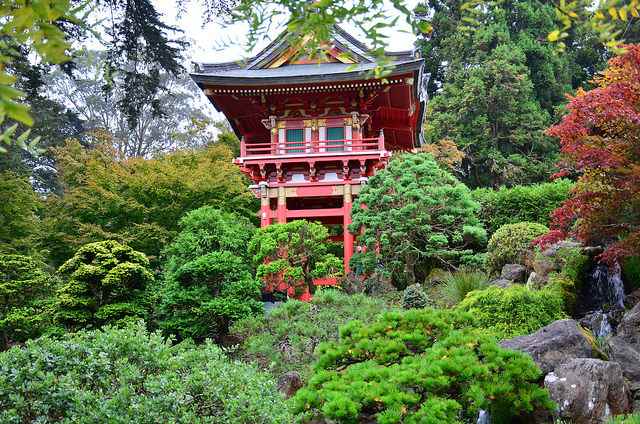 Photo credit: Anthony G. Reyes
Life on the road can be intense. So if you're backpacking you need to take time out to rejuvenate your spirit and senses. The Japanese Tea House and Garden is the perfect place to do that.
The perfectly manicured garden is the ideal place to spend some quiet time meditating while taking in the floral scents or listening to the gurgling of an azalea-covered waterfall.
While many are happy enough to take a stroll among the flora and fauna, you can also pick up a cup of tea from the teahouse.
5. Dutch windmills
At the very beginning of the 1900s, San Francisco native Alpheus Bull Jr. spent $25,000 to build the Dutch Windmill, which sits in the western section of Golden Gate Park. The working structure, also known as the North Windmill, was such a success that the mayor wanted a second built.
The result was the South Windmill which, at the time, was the largest of its kind in the world. Although the pair are no longer functional, their presence is a tribute to the workmanship and design of San Francisco's past.
6. Skating and rollerblading
If you're fancy a bit of high-speed action, Golden Gate Park is a great place to strap on some skates or rollerblades. It might surprise you to know that people have been zooming around the park on skates since the 1800s, when the San Francisco Recreation and Parks Department build a roller rink and offered skate rentals.
Now the 6th Avenue Skate Park, near John F. Kennedy Drive, is a must-go for extreme sports lovers. If you fancy joining the skaters, you should know the park itself does not offer rentals. There are other options nearby such as Golden Gate Park and Skate, but best to bring your own if possible.
7. Conservatory of Flowers
The iconic structure that is the Conservatory Of Flowers is worth a visit in itself. The bright-white, domed building in the northeast of the park glistens in the sun while the beautifully manicured lawns surrounding it provide a perfect place to relax.
Take a tour of the Conservatory and you will be treated to encounters with rare and unusual plants from across the globe. It's a fascinating stop for a traveler who wants to experience everything Mother Nature has to offer.
8. De Young Museum
Packed with an extensive art collection from across the globe, the De Young Museum is the perfect stop for travelers wanting a cultural experience. The museum holds collections of North American art throughout history, plus exhibitions of work from Africa, Oceania and more.
Head outside and into the Barbro Osher Sculpture Garden to take in the museum's wonderful collection of sculptures from contemporary artists.
Before you head back to your hostel, make sure to climb up the Hamon Observation Tower, on the east end of the museum, for a magnificent panoramic view of San Francisco.
9. California Academy of Sciences
Learning is what traveling is all about, right? Well, the California Academy of Sciences is the perfect place in Golden Gate Park to do just that.
The museum is a homage to all the sciences, housing an aquarium, planetarium, natural history museum and even a rainforest. If you're an animal lover then prepare to be amazed. The museum has more than 1,000 species on show from African penguins to white-spotted jellyfish.
To get a sneak-peek of the things you might see at the California Academy of Sciences, check out the live penguin webcam below.
10. Hippie Hill
If you didn't know already (and you definitely will when you arrive) San Francisco was the birthplace of the hippie movement. The free love wave that spread across the city collected at Hippie Hill in Golden Gate Park, with thousands gathering at the spot during the 1960s.
More than 50 years on and Hippie Hill is still home to drum circles and pot-lovers aplenty. It's a fascinating place to people watch, but it also provides stunning views thanks to its east-side location. If you're heading to San Francisco, this is a must.
Hostels near Golden Gate Park
Now you've seen exactly how much Golden Gate Park can offer, you will be itching to go. Obviously, you will want to stay as close as possible but, as mentioned previously, there aren't loads of options nearby.
Here are five hostels near Golden Gate Park that are fun, reasonably priced and easily accessible from the park.
The Red Victorian, nestled in the hippie center of the universe Haight-Ashbury, is a fascinating landmark in San Francisco. They are primarily a Bed & Breakfast but they apparently do have some hostel accommodations. See their Peacock room here. The bed and breakfast plays host to around 15 long-term residents, plus medium and short-term guests. It is best-known for hosting talks, classes and lectures (which visitors are encouraged to attend) focusing on all-manner of different topics. For those looking to get as close as possible to Golden Gate Park, The Red Vic is perfectly situated. A short walk down Haight Street and you arrive at the eastern side of the park.
Okay so like the rest of hostels on this list, we aren't really close to Golden Gate Park. However, if you are looking for a hostel that has instant community, then we are the hostel for you! Our hostel, Pacific Tradewinds Hostel is the top-rated hostel in San Francisco on TripAdvisor, Facebook and Google. Our motto is "Be excellent to one another" and that theme runs throughout. The housemates in the hostel have created a fun and relaxed place to stay by hosting daily activities and fostering a caring and nurturing atmosphere for every traveler.
If you're on a budget, then we've got you covered. Guests can take advantage of loads of freebies — luggage storage, tea and coffee, sandwiches, towels, wi-fi and lockers are all free. There is also a free sock wash, something you (and your fellow travelers) will undoubtedly be very grateful for.
Its location on the east side of the city makes it perfectly situated to access San Francisco's biggest attractions including Alcatraz Island, Union Square, Fisherman's Wharf. A short trip on the #7 bus will take you to Haight-Ashbury and, of course, the Golden Gate Park.
On the other hand, if a social hostel with an intense desire to help travelers is not your thing, read on...
Green Tortoise Hostel, near North Beach, offers plenty of amenities to make life easier for the weary budget backpacker. It's a little further away from the Market Street buses but still a good option if you are looking for a party hostel. Guests can enjoy a free breakfast, a large kitchen and even a free dry sauna. The Tortoise team also serve a complimentary dinner three times a week if you're looking to save some cash. Private dorms for one to three people are available while shared dorms are either co-ed or female only.
USA Hostels San Francisco offers modern and comfortable dorms in the heart of the city. You're a short walk from Union Square and the best shopping around. Guests can take advantage of privacy pods in the dorm room, and even stretch sore legs in the yoga studio. If you're looking to meet a friend or two, USA Hostels has social spaces including a lounge, dining area, kitchen and library.
For those on a budget, the hostel also provides free breakfast every day, which includes fresh fruit, oatmeal, fruit juice, tea and coffee, plus all the pancakes you can make.
Your final option on this list is The Adelaide Hostel, situated a short walk from the downtown shopping district. Its excellent location makes it a great option for those wanting to explore the city.
The Adelaide Hostel offers free breakfast, comfortable dorms, private rooms, free Wi-Fi and a kitchen. To get you out and about, the team can also help you book a number of fun activities including tours of the wine country and more.
How to get to Golden Gate Park by public transport
Navigating around San Francisco may seem slightly daunting to a newcomer, but actually, the city is served by a load of great public transport options.
To get from downtown to Golden Gate Park, you could take:
The bus. San Francisco's bus network is one of the most practical and cost-efficient ways to navigate around the city. If you're at Union Square in Downtown, just take the 7, 5 or 5R from Market Street and Powell Street. The ride takes about 25 minutes and drops you at Fulton Street and Arguello Boulevard on the northeast side of Golden Gate Park. To plan your trip head to the San Francisco Municipal Transportation Agency website and use their trip planner tool.
Bike. If you fancy a bit of a cardio workout then why not rent a bike and cycle from downtown to Golden Gate Park. It's a fairly simple route of just over 5miles. It should take around 40minutes to complete.
To get from Pacific Tradewinds Hostel to Golden Gate Park, you have a load of different options on public transport. One of the simplest routes is to take a short walk to Market Street and Sansome Street. From there you can take the #7 or the #5R all the way to Golden Gate Park. For your full range of options, it's best to head to the SFMTA website and use their trip planner.
Conclusion: San Francisco hostels near Golden Gate Park
There's so much to see and do in Golden Gate Park that it would take more than a couple of days to get through it all.
Pick from any of our top five hostels and then go to Golden Gate Park to get quick access to one of the top attractions in San Francisco.
Main picture courtesy of Lonni Besancon