The Best Happy Hour Food Deals in San Francisco For Under $5

Ah, San Francisco. Where a sit-down meal in a restaurant is basically a luxury, and some avocado smeared on toasted bread can cost you ten dollars.
If you're here on a budget and that sentence just made your heart stop, don't panic! San Francisco also has some awesome food specials. You just have to know where to go find them and when. Lucky for you, we know all that stuff, so all you have to do is read this! Wow!
Read on to find out some of our favorite food deals in the city - all for under $5.
Every damn day
The new Portuguese restaurant Piri Pica serves $1 wings between 2 p.m. and 6 p.m. every single day! How great is that!
Tuesday until Sunday
From 5 p.m. until 6:30 p.m. enjoy $1 oysters at Bar Crudo. Be warned - it gets crowded, so make sure you're there early!
Monday until Friday
If you're in the mood for Italian food, you can't go wrong with our neighbor Palio. One of the most raved about happy hours in the city, Palio offers $5 arancini and a $5 pizza margherita during their happy hour betwen 2 p.m. and 7 p.m. It's also literally a minute away from the hostel on foot. What could be better?
If you're craving something more of the cheesy, spicy variety, walk 9 minutes to Uno Dos Tacos for some $5 quesadillas, flautas, and tostaditas from 4 p.m. until 8. It gets busy, so prepare yourself!
If you want to venture away from the hostel, check out El Techo in the Mission District from 4 p.m. until 6 for $5 empañadas (either squash or beef), $5 chips and guac, $5 fried chicken with habanero salsa, and free rooftop views.
The Taco Shop at Underdog's also offers $2 street tacos from 4:30 until 6 at both of its Sunset District locations. We literally can't think of a better way to end a day at Ocean Beach than devouring some crunchy, cheesy goodness.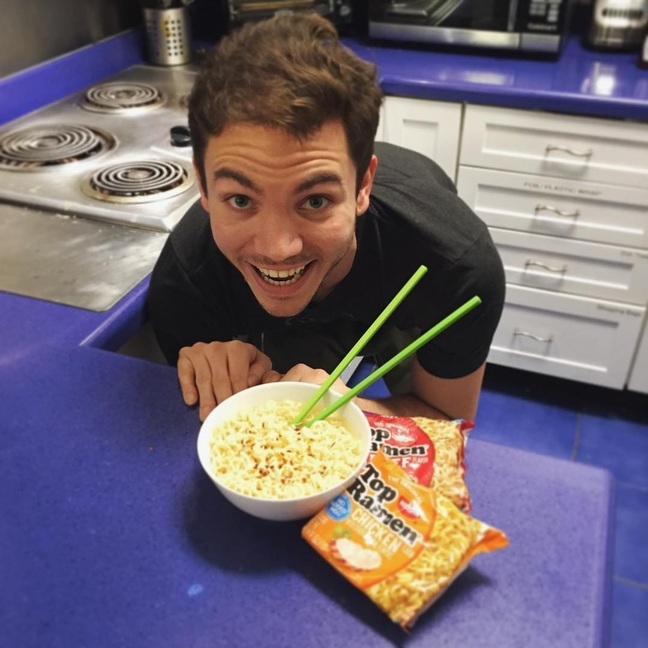 Monday until Saturday
From 3 p.m. until 6 p.m., E&O Kitchen and Bar offers butternut squash dumplings for $1, oysters for for $1, mushroom satay for $2, chicken satay with peanut sauce for $3, wood oven naan with cucumber raita for $4, and many other delicious bar bites for under $5. Get on that!
Tuesday
Tuesday's a big day for food deals. Every Tuesday in San Francisco is Taco Tuesday! That means that every single Tuesday, Mexican restaurants all across San Francisco have some great deals on - you guessed it - tacos! Let's taco bout some of them. Sorry. Bad pun. Lettuce redeem ourselves by telling you about more grate deals. (Grate? Like cheese? We promise we're done now.)
Teeth offers tacos for only a dollar each every Tuesday evening from 4 p.m. until 2 a.m.! Now that's what we call a steal.
However, while this is an amazing deal for meat and fish eaters, their vegetarian tacos are mostly vegetables and probably won't keep you full that long.=
Vegetarians may have more luck at the Taco Shop at Underdogs, which offers their delicious street tacos - choice of carne asada, carnitas, pollo, chorizo or veggie, and topped with cilantro & onions - for $2, like every weekday. Except instead of only running for an hour and a half, like the rest of the week, on Tuesdays this deal goes from 4:30 until midnight! They also offer $3 Tecates to wash it all down with. Get there early, because it gets extremely crowded.
No hate to Teeth! We love you! Especially because of your excellent Wednesday deal. We'll get to that in a minute.
If you're not feeling tacos, hit up Barrel Proof in the Mission from 5 p.m. until 11 for a $2 slice of cheese pizza. Can't beat that.
Wednesday
Every Wednesday from 4 p.m. until close, go back to Teeth for 25 cent wings. That's right - every wing only costs a quarter! They do have a two-drink minimum, but their Modelo, Bud, and Coors Light are $3 on Wednesdays, so it's not all bad.
Also, Pacific Tradewinds Hostel has ramen, PB&J sandwiches, bread, and coffee available to our guests 24/7 completely for free every single day that ends in Y. And, if you're reading this, there might be an extra special promo code hidden in here to give you some $$ off your first booking. We're all about that frugal life.
Join our Hostels Club on Facebook for more info on happy hours, plus personalized San Francisco recommendations!