November 18, 2019 - 5:18pm
The 4 Best Taco Tuesday Deals in San Francisco

If you've been in San Francisco for longer than an hour, you've probably already noticed that meals here can be wildly expensive. One burrito can easily run you ten dollars, and a full plate of food in a restaurant for lunch or dinner is most likely at least $15. But if you're here on a Tuesday, you're on a budget, and you like tacos, you're in luck! One thing San Francisco does right food-wise is having some of the best "Taco Tuesday" deals we've ever heard of. Lettuce taco 'bout them. We hope this awesome deals will make up for that cheesy pun. Oops, we did it again. Seriously, these deals are grate.
THE PLACE: Uno Dos Tacos - all ages
THE ADDRESS: 595 Market Street
THE DEAL: two tacos for $5
WHEN: 4 p.m. - 8 p.m.
BEST FOR: If you're staying at Pacific Tradewinds and don't want to travel too far for your tacos
Conveniently located a 10 minute walk from Pacific Tradewinds Hostel, Uno Dos Tacos offers two tacos for $5 every Tuesday from 4 p.m. until they close at 8. Or, $2.50 per taco if you're bad at math. Or just not that hungry. You can choose between beef, pork, chicken, fish, or vegetarian for your taco experience. Make sure you buy tacos in multiples of two in order to take advantage of the deal. For example, two tacos will be $2.50 each, but three will be at full price.
One of our favorite things about Uno Dos Tacos is they have an awesome outdoor eating area, and also blankets you can put on if it's cold outside! How's that for good service. It gets pretty crowded here on Taco Tuesday, so come early!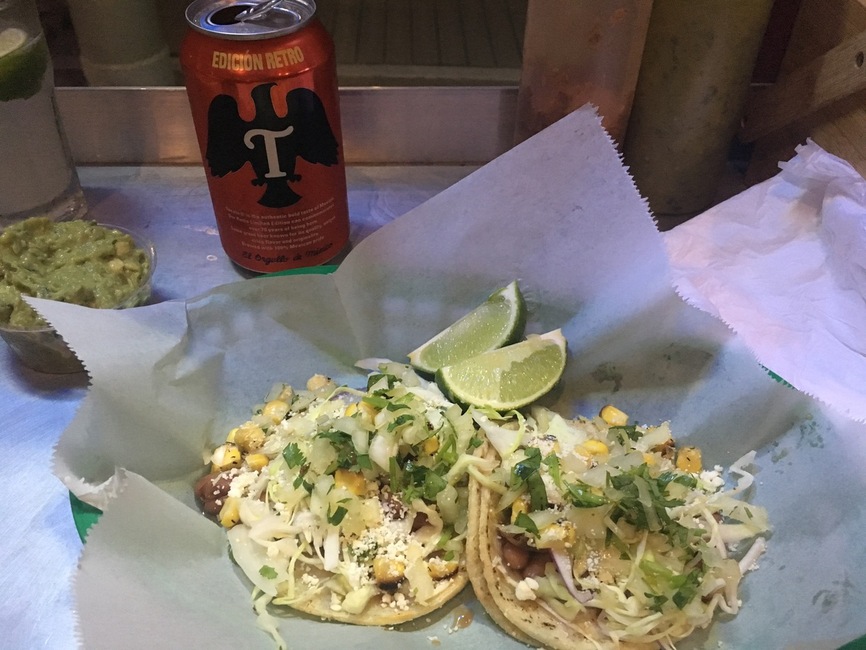 THE PLACE: Teeth - 21+
THE ADDRESS: 2323 Mission Street
THE DEAL: $1 tacos
WHEN: 4 p.m. - 2 a.m.
BEST FOR: The ideal end to a day in Dolores Park (or start to a night out in the Castro)
Nestled in the heart of the Mission District, Teeth is home to DOLLAR TACOS. Yep, you read that right! You can pick from beef, pork, chicken, fish, or vegetarian. The tacos are a little small, so if you're hungry, don't limit yourself to just one, especially if you're also considering indulging in their other Taco Tuesday deal, which is 2x1 margaritas. That's right: pay for one margarita and they'll give you two. They also have a patio, so on days where Karl is in hiding, get to Teeth early to soak up the sunshine, sip margaritas and enjoy your cheap, cheesy taco goodness. Yes, the San Francisco fog has a name, and it's Karl. Follow him on Twitter.
THE PLACE: Taco Shop at Underdog's - all ages
THE ADDRESS: 1824 Irving St, San Francisco, CA 94122
THE DEAL: $2 street tacos
WHEN: 4:30 p.m. until midnight
BEST FOR: Watching the game
Located off of 19th Avenue in the Sunset, the Taco Shop at Underdog's is a popular sports bar with an awesome Taco Tuesday deal. Every Tuesday, get their delicious street tacos for $2 each! Pick between carne asada, carnitas, chicken, chorizo or veggie. Each one is topped with cilantro and onions. They also offer $3 Tecates to wash it all down with. Get there early to snag a seat, because it gets extremely crowded.
THE PLACE: Underdog's Too - all ages
THE ADDRESS: 3600 Taraval St, San Francisco, CA 94116
THE DEAL: $2 street tacos
WHEN: 4:30 p.m. until midnight
BEST FOR: The perfect end to a beach day
We know what you're thinking: what! There's two places with the same name?! Nah. This is just their second location, with the same deals with the added bonus of being right on the beach, so you can walk over and watch a sunset before or after your $2 tacos.
Please note that all the awesome places we just named do tend to get pretty crowded pretty quickly. Turns out everyone and their mother wants tacos for under $3. Show up early and know that you might need to wait before you can get a seat. But hey, for a taco this cheap in San Francisco, a bit of a wait and some crowds are definitely worth it.
Recent Hostel Blog